+++
We are presently open for full-service, outdoor and indoor dining from 5:00 p.m. - 9:00 p.m., Tuesday - Saturday. Our outdoor patio seating is warmed up by heaters, however feel free to bring a lap blanket to make it extra cozy.
Vernick at Home
offers the same dinner menu that's available for dining at the restaurant, for Takeaway during our service hours. Orders can be
placed online
as early as 8:00am for same day pick up at Vernick Wine (next door at 2029 Walnut Street, just up the stairs), in-store or curbside, Tuesday - Saturday 5:00 p.m. - 9:00 p.m. and on Sundays 1:00 p.m. - 7:00 p.m. Greg and the kitchen team are continuing to add items that are meant for reheating, and we are keeping ice creams, soups, and other prepared food selections well stocked.
Vernick Wine & Chef's Grocery
is open 6-days a week, Tuesday - Saturday 1:00 p.m. – 9:00 p.m. and Sundays noon - 7:00 p.m. Our wine director, Ray, is keeping our shelves stocked with both excellent values and celebratory gems. In addition to wine, the shop offers a thoughtfully selected section of jams, condiments, sauces, spices, and tinned fish, reflecting products frequently used in the restaurant to add impact to our cooking. If you are looking to try something new at home or for a perfect host gift, we have some special finds to discover. Follow us
@vernickwine
to learn more about what we are featuring in the shop.
For
Thanksgiving
, we have a selection of sides, pies, wine packages, cocktails & more to round out your Thanksgiving meal – we have you covered on everything but the turkey! Ordering is now live and we invite you to visit our
Tock Reservation Page
to see the menu and select either Tuesday, November 24 or Wednesday, November 25 to place your pre-order for pick up on either day, from noon - 6:00 p.m. Orders must be placed by Sunday, November 22 at 8:00 p.m. We will be closed on Thanksgiving Day for dinner service, however
Vernick Fish
will be open for dining.
Order for Tuesday, 11/24 Pickup
Order for Wednesday, 11/25 Pickup
Please note, while our Thanksgiving pre-order is being offered up on our Tock reservation page, we continue to have our regular dinner menu and a la carte wine, chef's grocery and more via
our other ordering platform
.
If you have any questions, don't hesitate to send us a note to
info@vernickphilly.com
or call during our operating hours (267-639-6644)
+++
"In a city of dining riches, Vernick has reinvented the new American restaurant"
Craig LaBan, Philadelphia Inquirer 4 Bell Review
"Vernick represents everything that we love about dining out in this country right now: Honest, compelling food made with great ingredients and cooked with genuine soul."
Bon Appétit
Winner
2017 Best Chef: Mid-Atlantic
James Beard Foundation
"Chef-owner Gregory Vernick has a knack for taking the best of each season and turning it into something you can't wait to repeat"
Tom Sietsema, The Washington Post
Vernick Food & Drink
2031 Walnut Street
Philadelphia, PA 19103
267-639-6644
info@vernickphilly.com
Google Maps
Hours
Tuesday-Saturday
5:00 PM to 9:00 PM Dinner
Reservations
Reserve Online
Larger Parties & Special Events →
@vernickphilly
Gift Cards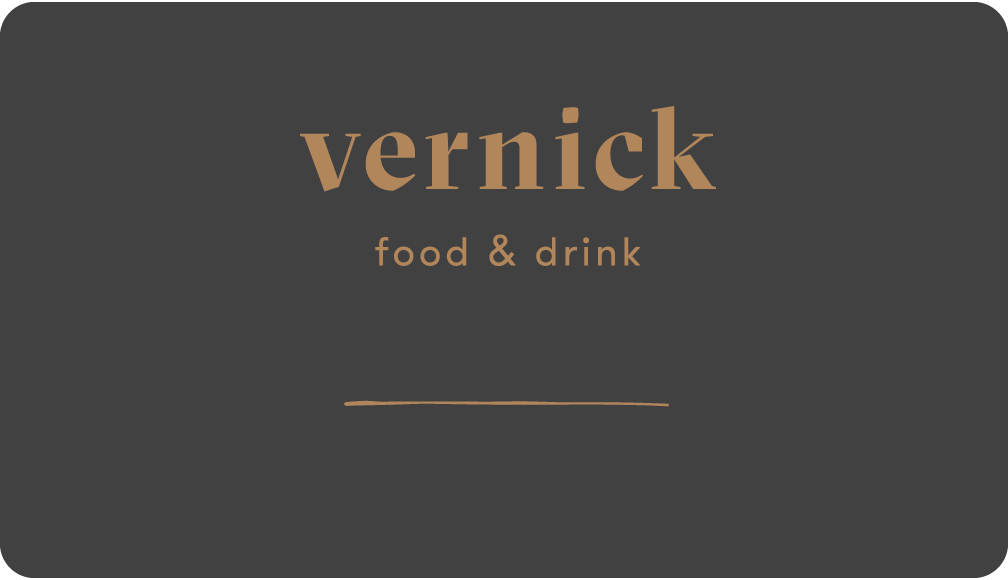 Gift cards are available online
Careers
Media Inquiries
greg vernick
Chef & Owner
Cherry Hill, NJ native Greg Vernick could be found in the kitchen at an early age thanks to his grandfather owning a Philadelphia butcher shop and mother, Beth, owning a local restaurant near their hometown. Pursuing his passion for the restaurant industry, Greg is now an award-winning chef with his own nationally recognized restaurant, Vernick Food & Drink.
Greg earned a degree in hospitality management from Boston University followed by a culinary degree from the Culinary Institute of America (CIA) in New York. After his CIA externship with Chef Ken Oringer at Boston's Clio, Greg moved to New York City where he rose through the ranks of the Jean-Georges Vongrichten's empire serving as sous chef at Jean-Georges, Nougatine, and Spice Market, and traveling the world as chef trainer for restaurants in Qatar, Tokyo, Vancouver, Boston, and Park City, Utah. After years in the Jean-Georges family, Greg took his final post away from home as chef de cuisine of New York's Tocqueville.
In 2012, Greg returned to Philadelphia with his wife Julie and opened the doors to his own restaurant, Vernick Food & Drink, where he serves an honest, no-fuss menu featuring his version of new American cooking.
Vernick Food & Drink has been recognized by the likes of Food & Wine, Bon Appetit, StarChefs, Philadelphia magazine, The Washington Post, and The New York Times. In 2016, Greg was named "Chef of the Year" by the Philadelphia Inquirer and Vernick Food & Drink earned a 4-Bell, re-review from restaurant critic Craig LaBan who called it the "Best Overall Restaurant" in the city.
In May 2017, Greg Vernick was named the Best Chef: Mid-Atlantic by the James Beard Foundation, coinciding with the fifth anniversary of the restaurant's opening. Greg is the first Philadelphia chef to win the award since 2011.